HOPE OUTREACH
Scroll to explore ways to care for our community
HOLIDAY HOPE GIVES
Our holiday HOPE Gives initiative is in collaboration with CrossOver Healthcare Ministry and Henrico Community Food Bank.
The HOPE family is invited to give 175+ meal bags to CrossOver's clients that experience food insecurity.
Pick up a shopping list on Sunday, October 30 and bring your complete meal bag back with you on Sunday, November 6. You can drop off your bags at the main entrance at West Creek or at the Lodge.
VIEW THE SHOPPING LIST FOR MEAL BAGS
*Each bag should include all of these items and the amount noted.
1 box of cereal
1 bag of rice
1 box of mac + cheese
1 box of spaghetti/other pasta (32 oz)
1 jar of pasta sauce
2 cans of chicken noodle soup
2 cans of tuna or chicken
2 cans of vegetables (15.5 oz corn, green beans, carrots, or peas)
2 cans of diced tomato
2 cans of beans (15.5 oz chickpeas, black/pinto beans, or black-eyed peas)
1 can of fruit (15 oz cans of fruit cocktail, peaches, or oranges)
1 jar of peanut butter
1 jar of jelly
HOW FAMILIES CAN SUPPORT THIS INITIATIVE
Join us on Sunday, November 6 following the 11am service in the concourse to help pack meal bags for our neighbors. Lunch will be provided. Please sign up here in order to attend.
Later in November, meal bags will be given to those facing food insecurity at a pop-up food pantry event hosted by CrossOver Healthcare Ministry, who is also partnering with the Henrico Community Food Bank.
LEARN MORE ABOUT CROSSOVER + FOOD INSECURITY
Food insecurity affects every community in our country, even ones close to home. According to the U.S. Department of Agriculture, 13.5 million households were food insecure in 2021. That same study from the USDA found that 7.8 % of Virginia households reported being food insecure. One of those households could be your neighbor, a member of your congregation, or someone at your child's school. CrossOver Healthcare Ministry, in partnership with HOPE Church and the Henrico Community Food Bank, are hoping to provide some relief to our neighbors experiencing food insecurity. CrossOver bilingual caseworker, Cynthia Zagal, explained the heartbreaking realities that our patients and their families face when trying to figure out how they will feed their families. "A lot of our patients are mothers and it can feel like you failed as a mom because you can't provide a basic need to your child," she says. "Children have access to breakfast and lunch while at school, but they don't know what they will have when they get home," Cynthia continues. "Being able to provide dinner, and have snacks at home that they can put in their child's backpack, makes a world of difference to parents and their children." Providing compassionate, high-quality healthcare to our uninsured and medically underserved neighbors involves looking at not only the healthcare needs of our clients, but their other needs which will enable them to live their most fulfilling life possible– one of these needs being access to nutritional food. Thank you for answering the call to provide support to your neighbors.
MEET OUR HOLIDAY HOPE GIVES PARTNERS
CROSSOVER HEALTHCARE MINISTRY
CrossOver is a non-profit organization that provides high-quality, compassionate healthcare to uninsured and Medicaid patients.
LEARN MORE
HENRICO COMMUNITY FOOD BANK
Henrico Community Food Bank combats hunger by providing food to our neighbors in need today and by providing a resource for tomorrow.
LEARN MORE
GOD HAS SHOWN US KINDNESS THROUGH THE GIFT OF HIS MERCY AND GRACE.
In response to God's loving kindness, we seek to care for others throughout our community, city, and world by collaborating with other various organizations and individuals.
Here are the three key strategic ministry areas in which we invest our focus and efforts.
Church Planting
Supporting leaders and churches with a heart and passion to grow the Kingdom of God locally and globally
Mercy
Supporting local & global ministries that address poverty alongside the spiritual needs of those they serve
Leadership Development
Investing in a wide network of leaders serving to advance the gospel including internships, seminary scholarships, training programs, and counseling
GLOBAL CRISIS RESPONSE
Give to HOPE's global crisis response fund and learn about the ways HOPE is responding to the crises in Pakistan, Puerto Rico, and those affected by Hurricane Ian.
Local Partners
The Branch / Ashland, VA / EPC church plant serving the Ashland community 
Explore God / Online / A ministry answering questions of faith online 
South City Church / Richmond / New church plant in Richmond
Camp Hope / Richmond & Global / Missions organization providing camp experiences to underserved communities 
CHAT– Church Hill Activities and Tutoring / Richmond / Serves youth in Richmond's East End through education, vocational training, and after-school enrichment programs
Disaster Response / Virginia & USA / Hope Church led group providing relief when natural disasters or other disaster events may occur
Into the Neighborhood / Richmond / Serving people through ministries in job training, substance abuse recovery, and supporting incarcerated people
PRC– Pregnancy Resource Center / Richmond / Provides compassionate care to women unprepared for pregnancy
Freekind / Virginia & USA / Equips, educates, and mobilizes people in the effort to end human trafficking
STEP– Strategies to Elevate People / Richmond / Developing strategies to defeat poverty in the lives of our urban neighbors
Urban Hope / Richmond / Provides safe and affordable housing in Richmond's East End, with a focus on walking with people on a path to homeownership
Athletes in Action / Richmond & USA & Global / Community to help athletes grow 
Barnabas Center / Richmond / Counseling, training, & teaching ministry
CRU / Richmond & Global / Equipping & mobilizing Christ-centered multiplying disciples
Elijah House Academy / Richmond / Christ-centered TK-8 school
FCA– Fellowship of Christian Athletes  / Richmond & Global / Christian sports ministry 
FOCUS Richmond / Richmond & USA / Community for students to unpack life's questions
For Richmond / Richmond / Connecting & equipping Christian leaders to collaborate for the transformation of Metro Richmond
IVCF– InterVarsity Christian Fellowship / Richmond & USA / Campus ministry that establishes and mobilizes witnessing communities of students & faculty
JobsRVA / Richmond / Helping and equipping job seekers
Needle's Eye / Richmond / Inspiring & equipping Christian professionals to become a source of hope and light at work, home, and in Richmond
RCLI– Richmond Christian Leadership Initiatives / Richmond / Equipping Christian leaders
Richmond Hill / Richmond / Retreat center seeking God's healing of Metropolitan Richmond through prayer, hospitality, racial reconciliation, and spiritual development.
World Horizons / Richmond & Global / Preparing, sending, and supporting workers for various ministries   
Young Life / Richmond / Introducing and inviting youth to Jesus Christ and helping them grow in their faith in Richmond, the West End, and Goochland
Young Lives / Richmond / Loving, empowering, and encouraging teen moms
YLFR– Youth Life Foundation of Richmond / Richmond / Mentoring and supporting students from at-risk communities
Global Partners
European Church Planting / Eastern Europe / Discipling, developing, and mobilizing Christians and leaders 
Lifegate / Serbia / Church planting and online ministry
NOVO / Eastern Europe / Missionaries multiplying movements of the gospel and mobilizing the church
Shalom Church / Dominican Republic / Church ministry in Hato Mayor
ONGOING OPPORTUNITIES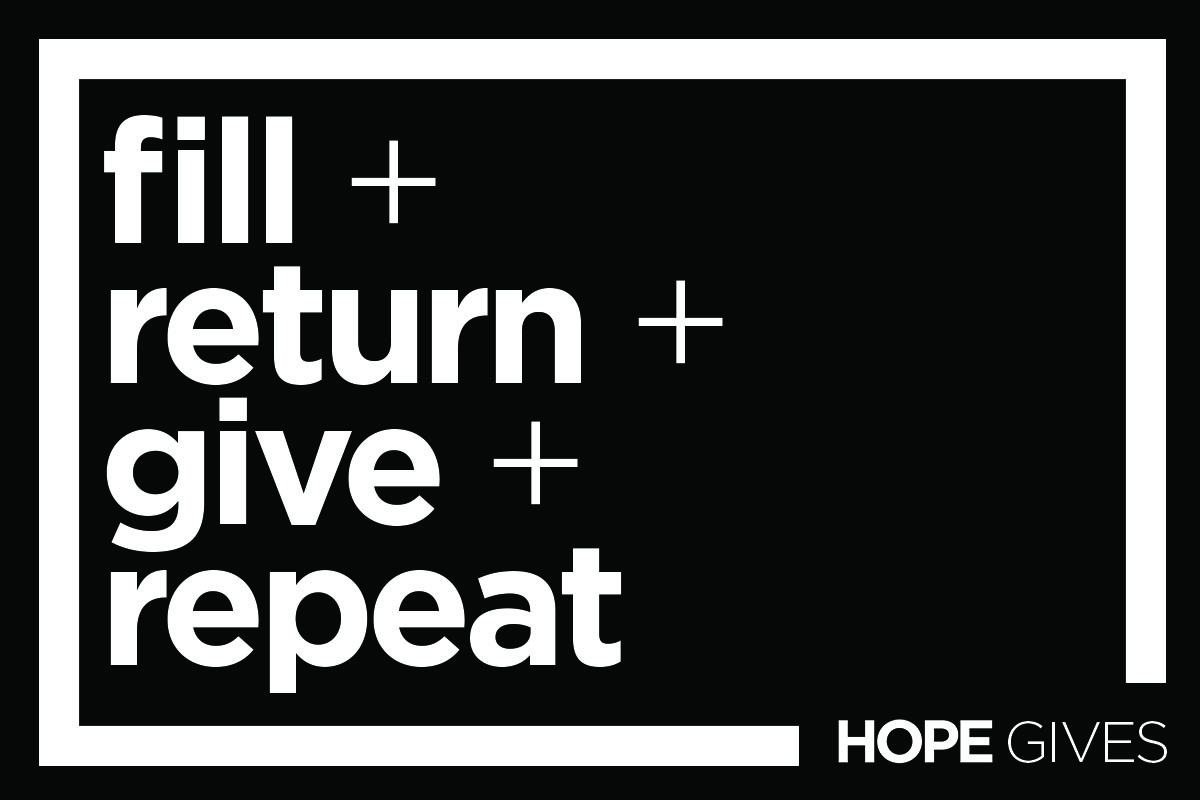 HOPE GIVES
Join us each month in collecting items for our outreach ministry partner Goochland Cares + others! Pick up a HOPE Gives bag and shopping list on Sundays when you leave and bring them back the following week.
Hope Thrift
A thrift store ministry of Hope Church where all donations and proceeds go toward supporting/funding local and global missions of Hope. Donations and volunteers are needed!
Learn More