HOPE OUTREACH
Scroll to explore ways to care for our community
HOPE GIVES: BOOKS FOR CHRISTMAS
A SPECIAL CHRISTMAS INITIATIVE
Our goal this Christmas is to fill 3 book vending machines at local elementary schools with a total of 1,000 books. Shop from the specified wish list to give the gift of literacy to kids in our community.
DROP-OFF DETAILS
Drop off your HOPE Gives bag of books at the trailer at the main entrance at any of these times:

• Jingle Jam (December 11)
• Sunday services on December 12 and 19
SHOP FROM THIS WISH LIST
The elementary schools we are partnering with have a wish list of books they will accept as donations. Give new or gently used books only from this list.
VIEW OR DOWNLOAD
GOD HAS SHOWN US KINDNESS THROUGH THE GIFT OF HIS MERCY AND GRACE.
In response to God's loving kindness, we seek to care for others throughout our community, city, and world by collaborating with other various organizations and individuals.
Here are the three key strategic ministry areas in which we invest our focus and efforts.
Church Planting
Supporting leaders and churches with a heart and passion to grow the Kingdom of God locally and globally
Mercy
Supporting local & global ministries that address poverty alongside the spiritual needs of those they serve
Leadership Development
Investing in a wide network of leaders serving to advance the gospel including internships, seminary scholarships, training programs, and counseling
Local Partners
Camp Hope / Richmond & Global / Missions organization providing camp experiences to underserved communities 
Church Hill Activities and Tutoring (CHAT) / Richmond / Serves youth in Richmond's East End through education, vocational training, and after-school enrichment programs
Disaster Relief / Virginia & USA / Hope Church led group providing relief when natural disasters or other disaster events may occur
Into the Neighborhood / Richmond / Serving people through ministries in job training, substance abuse recovery, and supporting incarcerated people
Pregnancy Resource Center / Richmond / Provides compassionate care to women unprepared for pregnancy
Richmond Justice Initiative / Richmond / Equips, educates, and mobilizes people in the effort to end human trafficking
Strategies to Elevate People (STEP) / Richmond / Mobilizes churches to serve people in the Gilpin Court community
Urban Hope / Richmond / Provides safe and affordable housing in Richmond's East End, with a focus on walking with people on a path to homeownership
Athletes in Action / Richmond & USA & Global / Community to help athletes grow 
Barnabas Center / Richmond / Counseling, training, & teaching ministry
CRU / Richmond & Global / Equipping & mobilizing Christ-centered multiplying disciples
Elijah House Academy / Richmond / Christ-centered TK-8 school
Fellowship of Christian Athletes  / Richmond & Global / Christian sports ministry 
FOCUS Richmond / Richmond & USA / Community for students to unpack life's questions
For Richmond / Richmond / Connecting & equipping Christian leaders to collaborate for the transformation of Metro Richmond
InterVarsity Christian Fellowship / Richmond & USA / Campus ministry that establishes and mobilizes witnessing communities of students & faculty
Jobs RVA / Richmond / Helping and equipping job seekers
Needle's Eye / Richmond / Inspiring & equipping Christian professionals to become a source of hope and light at work, home, and in Richmond
Richmond Christian Leadership Initiatives / Richmond / Equipping Christian leaders
World Horizons / Richmond & Global / Preparing, sending, and supporting workers for various ministries   
Young Life / Richmond & Global / Introducing and inviting youth to Jesus Christ and helping them grow in their faith
Young Lives / Richmond / Loving, empowering, and encouraging teen moms
Youth Life / Richmond / Mentoring and supporting students from at-risk communities
Global Partners
Shalom Church / Dominican Republic / Church ministry in Hato Mayor
European Church Planting / Eastern Europe / Discipling, developing, and mobilizing Christians and leaders 
Lifegate / Serbia / Church planting and online ministry
NOVO / Eastern Europe / Missionaries multiplying movements of the gospel and mobilizing the church
Children's Relief International  / Africa, Asia, and Latin America / International missions and relief work
International Justice Mission  / Global / Works to end violence against people living in poverty
Serving in Jesus' Name / Kenya and Haiti / Sharing the gospel and providing financial resources and material support to those in need
World Relief  / Global / Brings churches and volunteers together to help people in poverty, those affected by natural disasters, and refugees
ONGOING OPPORTUNITIES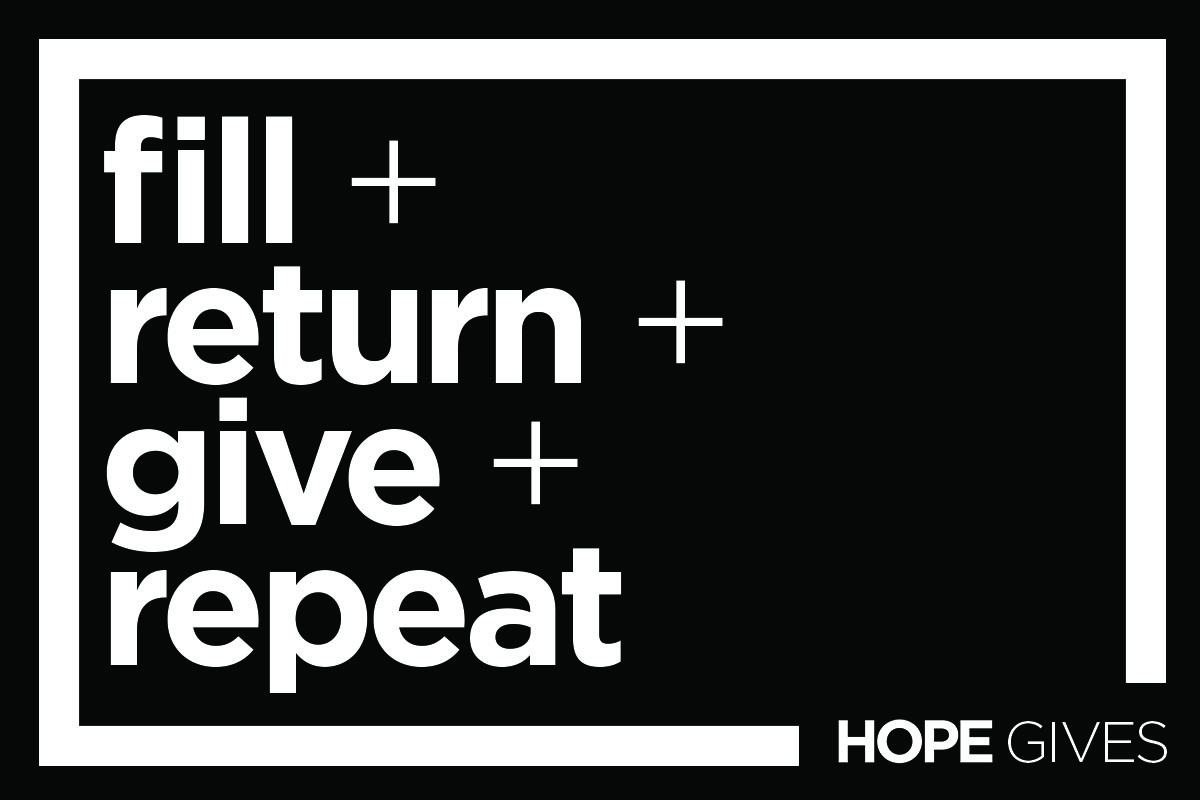 HOPE GIVES
Pick up a HOPE Gives bag as you leave a service, fill it according to the list inside, and return it the following Sunday.
shopping list
Hope Thrift
A thrift store ministry of Hope Church where all donations and proceeds go toward supporting/funding local and global missions of Hope. Donations and volunteers are needed!
Learn More